WONDER Available on Blu-ray & DVD NOW + Giveaway
WONDER Available on Blu-ray & DVD NOW + Giveaway
Yay! Wonder is available on Blu-ray and DVD now! We are so excited to finally be able to watch this movie at home, it's a favorite of ours and it has such a wonderful message!
Featuring Julia Roberts, Owen Wilson, and Jacob Tremblay this is an inspiring story of a loving family whose son, born with facial differences, enters a mainstream school for the first time.

Based on the beloved best-selling novel, WONDER follows the inspiring story of the Pullman family, whose youngest child, Auggie, is a boy born with facial differences. When Auggie enters mainstream elementary school for the first time, his extraordinary journey unites his family, his school, and his community, and proves that you can't blend in when you were born to stand out. Oscar® winner Julia Roberts, Owen Wilson, and Jacob Tremblay star in this heartwarming and uplifting film.
Pre-order NOW! You can pre-order Wonder on Blu-ray and DVD now, and it's even on sale! (you also get the pre-order price guarantee when you pre-order now)
This is SUCH a great movie! I love the message and there are so many wonderful family conversations that can come from watching this movie together.
FREE Wonder Activity Sheets
Make sure to download these fun WONDER printable activity sheets: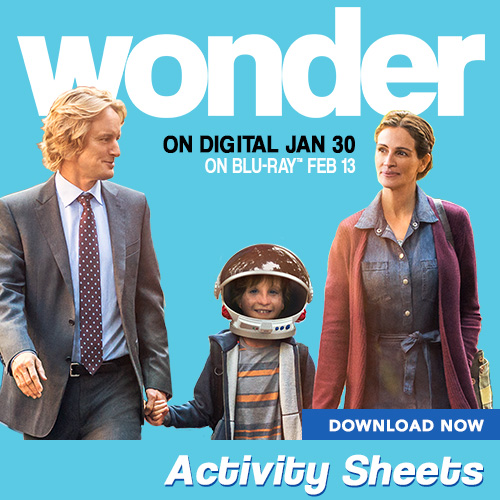 The Giveaway
I'm excited to share that ONE lucky She Saved reader (US only) will win a digital copy of WONDER along with a fun prize package that includes: WONDER NIGHTLIGHT NIGHT SKY PROJECTOR, WONDER INSULATED LUNCH BAG, WONDER FISH EYE LENS and a WONDER FIDGET SPINNER.
Giveaway open to US addresses only.
I will leave this giveaway open until Feb 28th (mnt time) … once closed, I will select one winner who will have 48 hours to contact me to claim their prize! GOOD LUCK!!
Meet the author – Keri Lyn
The creative and frugal mind behind She Saved for over 12 years now, Keri Lyn shares her adventures in parenting along with her love for family travel, country living and brand marketing. A self-proclaimed "brand loyalist", Keri Lyn is known for her strong and enthusiastic voice when it comes to the products and brands that she loves. She Saved has become a community for like-minded consumers who appreciate saving money, time and sanity by getting the best deals on quality products and experiences.