Mohawk Rugs at Walmart: Quality Decor on Rollback + Walmart Giftcard Giveaway
This post is sponsored by Savings.com.
Right before this whole "Stay at Home" thing, I had decided that this spring would be the season for updating the looks in a few of our rooms that have been ignored over the past few years.
We live in an old farmhouse that was built in 1912, so there is always work to be done and sometimes the decor portion has to take a backseat to more important and vital things like support beams and structure. Fun stuff, let me tell you!
However, I had set aside some budgets to do some fun upgrades and one of the first rooms I wanted to work on was our front room den, which doesn't get much traffic but is such a pretty little room.
The old windows in this room have been a challenge for me to figure out because of the crazy way that they drop light into the room, it's not full sun but more of a cloud of rays. Mixed with the all color, this room can get a little dreary.
I love shag rugs, but I'm really picky about the quality. You don't want a shag rug that sheds or gets all icky – but I also don't want to spend a fortune on a rug because I tend to like to change my decor up from time to time.
Mohawk Rugs at Walmart
I was so excited to learn about the line of Mohawk rugs at Walmart. They have a huge selection – so huge that it took me forever to settle on this one, the Mohawk Home Willow Creek Solid Shag Area Rug in red. I purchased it in the 5×7 size but it's also available in larger and smaller sizes.
I love how quickly this little addition (that was under $100!) created a pop of color and comfort into our den.
Plus, I can't get over how soft this rug is, and it has that wonderful new rug fragrance to it, it feels like an entirely new room!
It's amazing how such a small investment can completely transform a room.
Mohawk Rugs on Rollback at Walmart
Best of all, so many of these awesome rugs are on rollback at Walmart! Shopping from home has never been easier and you can either pick these up at the store or have them shipped right to you!
Make sure to shop the selection of Mohawk rugs at Walmart. There is literally something for everyone, with a nice selection of sizes and colors/patterns and something for every budget.
Another key feature to point out is that Mohawk rugs are made in the USA. Many of my very favorite things are, and I love to support and buy American made.
Mohawk's extensive and thoughtfully crafted product line includes doormats, utility mats, kitchen and bath mats, accent rugs, area rugs and rug pads. As the world's largest flooring company, Mohawk has a long history of serving customers and communities responsibly by developing energy-efficient manufacturing processes and eco-friendly products that you can feel good about.
Not to mention, a price that you can feel good about as well!
Enter to Win one of TEN E-Gift Cards from Mohawk and Walmart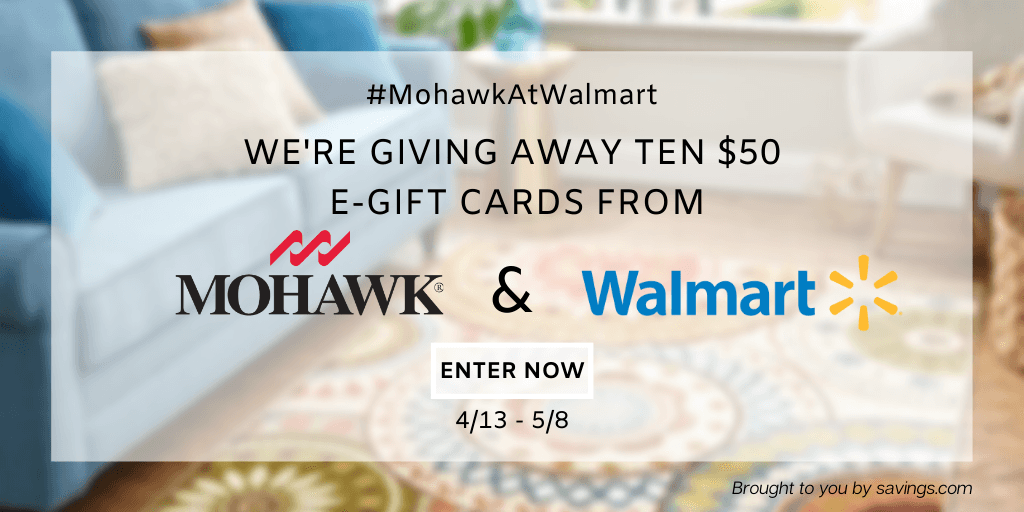 Giveaway Details:
The giveaway runs NOW through Friday, May 8th at 11:59 PM PT.
Ten (10) winners will receive a $50 Visa e-gift card from Walmart.
Enter here on the Walmart merchant page on Savings.com by submitting your email address on the form on the page.
The winners will be chosen through a lottery drawing and notified on Monday, May 11th via the email address they used to enter.
See complete Official Rules for entry instructions, full prize descriptions, restrictions and other important details.
The creative and frugal mind behind She Saved for almost 12 years now, Keri Lyn shares her adventures in parenting along with her love for family travel, country living and brand marketing. A self-proclaimed "brand loyalist", Keri Lyn is known for her strong and enthusiastic voice when it comes to the products and brands that she loves. Passionate about family and the challenge of raising good humans (through the teen years, no less!) Keri Lyn has also served as a brand ambassador to many brands including her time as a Hilton Mom Voyage travel writer and currently an O Mag Insider for O, The Oprah Magazine and the 2019 recipient the O-verall Contribution O-ward.