Winter Prep with Home Depot
*Disclosure: I was compensated for this shop in partnership with Savings.com. All opinions are 100% my own.
Isn't fall the best? I think I say that about every new season, but this year – I'm really feeling all of the fall vibes. We had a super hot and dry summer and this cooler weather has been so nice.
Nice enough, in fact – that I finally knocked out a few winter prep projects that have been on my to-do list. I made a quick run to our local Home Depot to grab a few supplies and got right to work.
First of all, I finally tackled finishing the painting of our entryway. We had the house painted by a professional crew but our entry railings needed some work, so we had those rebuilt and it wasn't worth it to have the painters back out to paint that since it was such a small job.
I had the specialist at Home Depot match the paint color for me, bought a gallon of paint and about two hours later – our porch railings look as good as new!
Behr Premium Plus Paint & Primer
I love that they will mix this up for you while you shop and this is (in my opinion) the very best paint! I've never needed more than one coat – it goes on so nice and easy and has a beautiful finish.
Before I painted, I also noticed that some of the railing that we had repurposed needed caulking. Every fall I purchase caulk for around sinks, tubs and showers on the inside of the house, but this year I also purchased outdoor caulk and the timing was perfect because I was able to caulk trouble areas and paint right over them as soon as they dried. A great little winter prep project that took only minutes before I painted!
Dap Fast Dry Acrylic Caulk Plus Silicone
Dap is usually under $5 and honestly – the best money you'll ever spend. I love this stuff! It dries super fast and is so easy to use! It comes in many different options (white, clear, etc) and for several different surfaces. Definitely a must-have when you are tackling home projects!
Another area of our home that needed a little TLC before winter was our light fixtures outside of our garage doors. Not only were they old and outdated, but they were also full of wasps nests. We thought this would be the perfect time to replace them since we recently had our home painted and I'm so glad we did!
Such an affordable change and it made a huge difference in the look of our home.
The lighting fixtures that I selected were both affordable and really easy to install. And by really easy, I mean we had an electrician stop out and do all of them at once. It took him less than an hour and we are thrilled with the results!
Leeds Mystic Bronze Outdoor Wall Lantern Sconce
And probably my very favorite purchase from my trip to Home Depot was my new fall flower arrangement!
Such an easy and quick way to decorate for fall and I love how it looks on my front porch. And the best part? It was under $20!!
Fall flowers at Home Depot
Starting at $5.99 and up!
I love how quickly I can knock items off my to-do list just by stopping into Home Depot. What fall projects and winter prep projects are you working on right now?
Make sure to enter this amazing giveaway hosted by our friends at Savings.com! If you are like me, you have an endless list of projects that you could us a $250 gift card on, am I right?
Enter the Savings.com Giveaway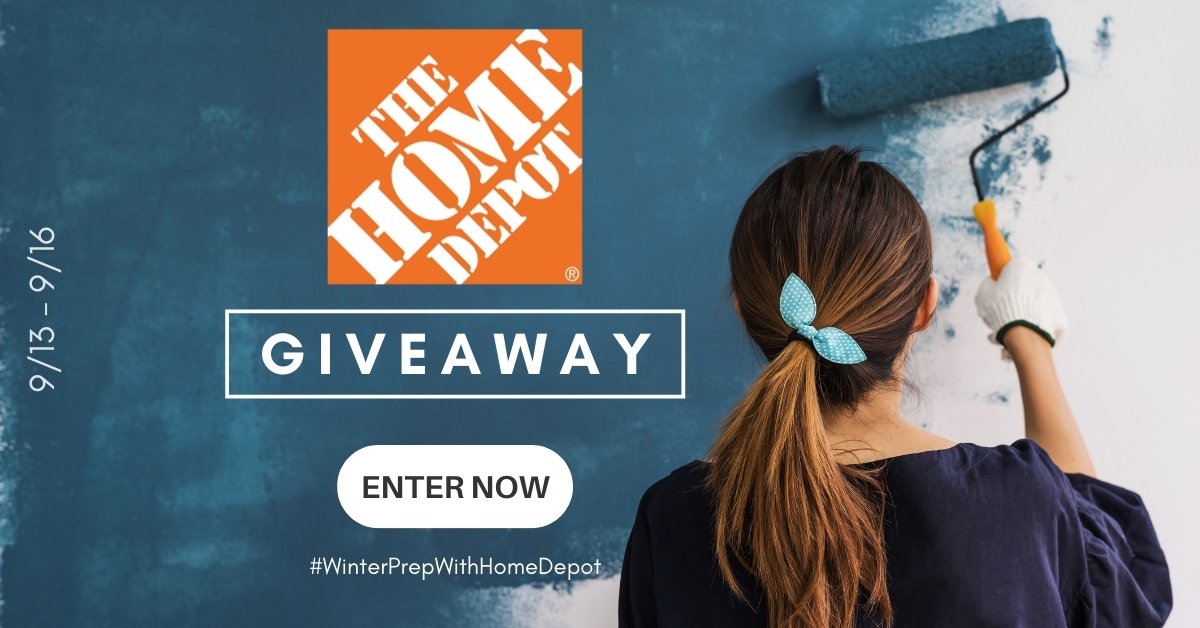 Thanks to Savings.com,
FOUR (4) winners will receive a $250 e-gift card from The Home Depot.
This giveaway ends Thursday, September 16th at 11:59 PM PT.
Make sure to check back often for more of our favorite
gift ideas
!
Meet the author – Keri Lyn
The creative and frugal mind behind She Saved for over 12 years now, Keri Lyn shares her adventures in parenting along with her love for family travel, country living and brand marketing. A self-proclaimed "brand loyalist", Keri Lyn is known for her strong and enthusiastic voice when it comes to the products and brands that she loves. She Saved has become a community for like-minded consumers who appreciate saving money, time and sanity by getting the best deals on quality products and experiences.