Early Man Movie Comes to Blu-Ray and DVD! + FUN Giveaway!!
Early Man Movie Comes to Blu-Ray and DVD! + FUN Giveaway!!
Disclosure: This post was created in partnership with Lionsgate. All opinions are 100% my own.
Have you seen Early Man? It comes to Blu-ray and DVD tomorrow, May 22nd!
Set at the dawn of time, when prehistoric creatures roamed the Earth, Early Man tells the story of courageous caveman hero Dug (Eddie Redmayne) and his best friend, Hognob, as they unite their tribe against a mighty enemy — Lord Nooth (Tom Hiddleston) and his Bronze Age City — to save their home.
It's a funny family friendly movie and one of our favorite things about it is the claymation! This would be a fun DVD to own, and it also has some really fun bonus features! I love movies like this that create laughter and fun for the entire family and Dug definitely brings the adventure to this one along with his side kick Hognob. Lots of laughs and witty fun!
BLU-RAY/DVD SPECIAL FEATURES
"Before the Beginning of Time: Creating Early Man" Featurette
"Nick Park: Massaging the Funny" Featurette
"The Valley Meets the Bronze" Featurette
"Hanging at Aardman Studios: A Workshop Exploration" Featurette
Have you ever tried claymation? Thanks to our friends at Lionsgate, we had the chance to make our own little claymation movie, and we had so much fun!
If you are looking for fun gift ideas for the kids, this slow motion Claymation Kit provides hours of entertainment!
Here's a peek at our little movie:

We definitely have a lot to learn but we enjoyed making our first little movie: ENJOY! *and please note… it's a cloudy day, thus the dreary mood (that's our story and we are stickin' to it!) Let us know if you can tell what the story line is 🙂
The Giveaway
Even more exciting, one lucky She Saved reader (US only) will have the chance to win a slow-motion Claymation kit and the Early Man Blu-ray!
This giveaway will close May 31st, 2018 at midnight (mnt time) …once closed, I will select one winner who will have 48 hours to respond to claim their prize! GOOD LUCK!!!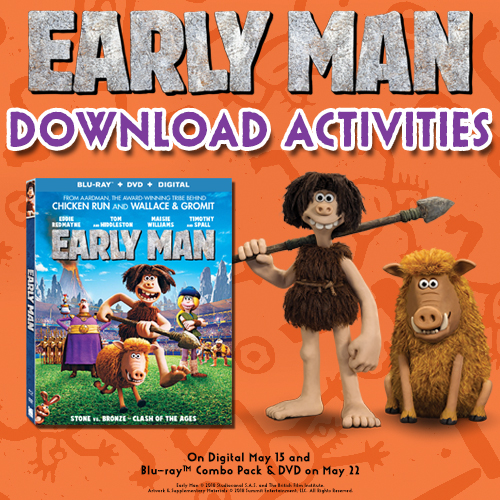 Meet the author – Keri Lyn
The creative and frugal mind behind She Saved for over 12 years now, Keri Lyn shares her adventures in parenting along with her love for family travel, country living and brand marketing. A self-proclaimed "brand loyalist", Keri Lyn is known for her strong and enthusiastic voice when it comes to the products and brands that she loves. She Saved has become a community for like-minded consumers who appreciate saving money, time and sanity by getting the best deals on quality products and experiences.