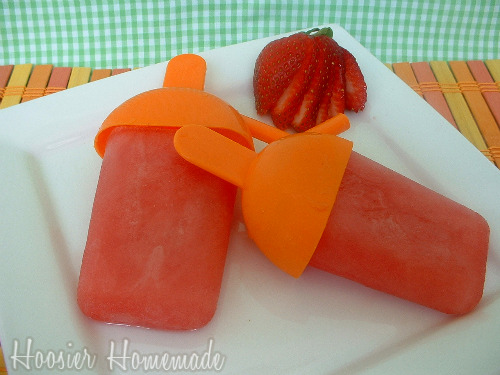 Hi there, She Saved fans! It's me again, Liz from Hoosier Homemade. I usually share my cupcakes with you, like the Snow Cone Cupcakes and the Froggy Cupcakes, but since it's so super hot right now, I thought I would share these yummy Homemade Popsicles.
Last week, we made Watermelon Granita, and with some of the leftover juice, I made these Popsicles.
When I buy watermelon, even though I have 3 teenage boys in the house, in often goes bad. The boys enjoyed the change of pace with the Granita, and the Popsicles were a hit too.
During our Fourth of July Celebration, we made some Rocket Pops, I think they would be so cute to make in these Popsicle Molds. And this Banana Split Pop, looks so fun!
Grab the recipe and give them a try! We are planning on experimenting with other fruit too?
Have you made your own Popsicles? What fruit did you use?
You can find me over at Hoosier Homemade usually surrounded by Cupcakes! I've been blogging a little over a year, I share lots of baked goods and decorating tips and tricks, all to help you "Make Your House a Home." When I'm not baking cupcakes, you can find me partying over on my other blog, It's A Blog Party, where I host a different linky party everyday. Catch up with me on Twitter and Facebook.
Liz…thanks for much AS ALWAYS for stopping by and sharing one of your wonderful creations…these look amazing, and I can't wait to make them for my family!!!