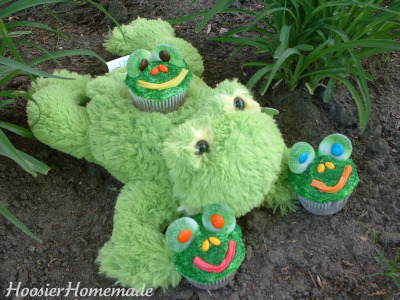 Are you all having a great Summer? Ours is just flying by! Instead of our Life going to the dogs..our Life has gone to the Frogs! 🙂
Hey! Liz here from Hoosier Homemade! The crazy Cupcake Lady back again to share some more fun cupcakes with the She Saved fans!
I created these fun Frog Cupcakes for the launch to my Blog Frog Community! Are you familiar with BlogFrog? It's an online community where you can meet others that have the same interests as you. For instance, do you like to cook or craft? Maybe bake cupcakes like I do? Join as many communities as you like, or even start your own! It's fun, you should check it out!
Anyway…I'm here for cupcakes! If you have missed my cupcakes, I'd love for you to "HOP" on over and see what I have created!
I love creating fun and easy cupcakes, like the Snow Cone Cupcakes that I shared right here on She Saved. These Frog Cupcakes are created with a little colored sanding sugar and candy.
Here's what you will need…
Cupcakes, baked and cooled (see how I make a cake mix taste like they are from scratch)
Buttercream Frosting (my fave)
Wilton Green Sanding Sugar
Gummi Rings
M&M's or other candy for the eyes
Candy coated Sunflower Seeds or other candy for the nose
Licorice or other candy for the mouth
Directions:
Frost cupcakes with Buttercream Frosting, mounding it up just a bit. Dip in green sugar, dip the edges first, then the top, it's easier that way. Make a small slit through the frosting and into the cake to secure the gummi ring. Using a small dab of frosting, attach the M&M's to the gummi rings for the eyes, gently push the candy into the frosting for the nose and mouth.
These cupcakes would make a great addition to a little boys birthday party, Summer Camp fun, or even a Blog Frog Community Launch!
Thanks so much Keri Lyn for having me! I hope you are all enjoying your Summer!
You ROCK Liz… we always enjoy your yummy creations!! Thanks for stopping by!!
The creative and frugal mind behind She Saved for almost 12 years now, Keri Lyn shares her adventures in parenting along with her love for family travel, country living and brand marketing. A self-proclaimed "brand loyalist", Keri Lyn is known for her strong and enthusiastic voice when it comes to the products and brands that she loves. Passionate about family and the challenge of raising good humans (through the teen years, no less!) Keri Lyn has also served as a brand ambassador to many brands including her time as a Hilton Mom Voyage travel writer and currently an O Mag Insider for O, The Oprah Magazine and the 2019 recipient the O-verall Contribution O-ward.